And everything becomes easier.
We want to make it easier for you: your development, production, and processes. To achieve this, we use our expertise, state-of-the-art technologies, and our ability to find unique solutions.
All our developments have two things in common: increased efficiency and performance for our customers. Our solutions are precisely tailored to customer requirements. Investments in Durrer machines also pay off in the long-run – guaranteed.
We are experienced and well-versed in developing extraordinary machines and mechanics. The precise realization of unique and demanding customer desires is our speciality.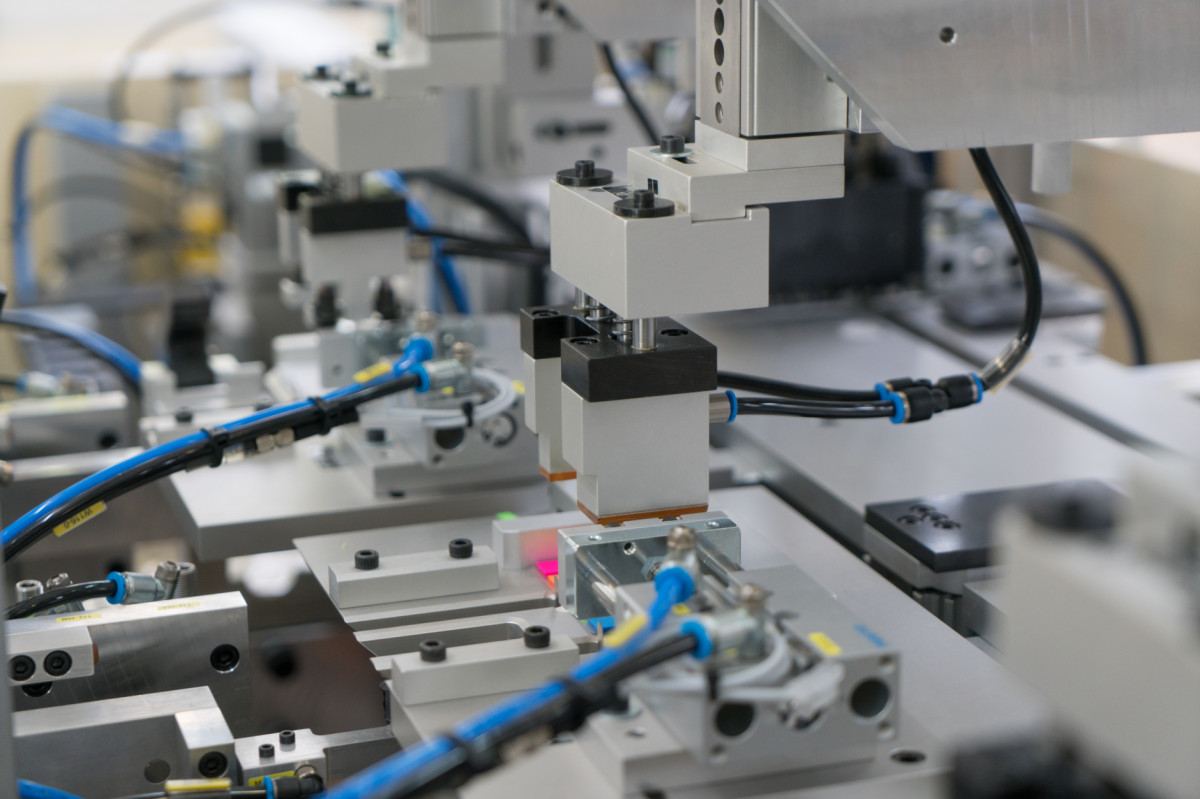 Automation – We love to develop for you.
Whatever we develop for our customers, it increases efficiency, safety, and reliability. Because our solutions - whether individualised standard solutions, unique developments, networked systems or simple robots - are one hundred per cent reliable.
They are based on the sound interdisciplinary know-how of our specialists and close cooperation with the respective customer, precisely meeting their requirements and wishes.
And because all development steps are carried out in-house, maximum efficiency is guaranteed: from the solution-finding process to production and software development.
Mechatronics – Concentrated expertise for innovative solutions.
Mechatronics combine the entire know-how of our specialists for mechanics, electronics, and information technology - the prerequisite for our sophisticated holistic solutions. Interdisciplinary cooperation has always been one of our trump cards.
Accumulated, highly specialised knowledge from various fields enables us to develop complex and highly precise reliable machines and systems. In many cases, these are centrally controlled and networked with other equipment in comprehensive production lines.
As we have a lot of experience and knowledge in the intelligent and digitally networked systems field, we are also happy to take on the role of a general contractor. In this way, with customers and partners, we implement demanding Industry 4.0 projects efficiently and purposefully.
Robotics – High-tech at your service.
Robot technology is an indispensable part of unique mechanical engineering. We integrate everything - from simple pick'n'place robots to complex, multi-axis robot systems. Robots do part of the work for us, and they work with the people who use them. The first challenge is that safety must be guaranteed at all times.
There are technical and mechanical solutions for this. Durrer integrate robots that perform particular tasks according to individual customer needs. We integrate third-party products into our systems and program them according to individual requirements. Robotics combines specialised knowledge from electrical and mechanical engineering and information technology.
This is where the close cooperation between different departments and areas pays off: in favour of solutions with the greatest possible customer benefit.
Special-purpose engineering à la Carte.
We develop and produce systems for which there are no standardised machines; they are fully geared to the needs of an individual customer. Special machine construction is part of our core business. These machines perform tasks for which there are no standard solutions on the market. Developing and manufacturing special machines requires expertise from all areas of mechanical engineering.
The challenge starts with the problem analysis, continues with project process creation and cost calculation, and ends with the actual implementation: conception of the special machine, design, software development, production, assembly, quality control, and commissioning at the customer's site.
Durrer covers all processes. That is decisive because avoiding interfaces enables high efficiency. It also makes us an absolutely reliable partner with clearly defined responsibilities. In this way, we deliver solutions that promise optimum added value and meet customer requirements 100 per cent. Regardless of whether it is an individualised standard solution or a purely unique product, the highest quality is guaranteed.
Software development & digitalization – Everything under control at all times.
Industry 4.0 is not a buzzword for us, but daily practice. We develop the software for our machines in-house, as well as the HMI - tailored to individual user needs.
At Durrer, the machine control system, including user interface visualisation, we keep entirely in our own hands: from design to software development. In this area, we can also respond to the customer's specific requirements and have full control over all automation processes.
We develop user-friendly, clear visualizations for operation and interaction with the machine. Our machines are industry 4.0-ready, or already networked with each other in such a way that continuous processes take place across all upstream and downstream equipment. They can also be monitored and maintained remotely, and our technicians will quickly rectify operational faults via a remote system.
Partner for all sectors – Our Success Stories.
Take a look at our portfolio: we work with customers from many different industries. Diversity and the ability to quickly grasp customer needs makes us the ideal partner for a wide range of companies.